Update: Tuesday, March 7th, 2023
We are seriously in our dry season
This current weather is almost too good to be true for most purposes. Rain is scarce lately. Keep up with watering winter flowering plants like impatiens if you really want that great blast of color. I really like to see colorful perennials that don't have to be changed out with seasons. Your ultimate choice. Our lawns are stressed and need irrigation regularly. Its a great time for outdoor grilling in early evenings and also for getting certain projects done now while we are experiencing cool mornings and late afternoons. Felicia and I have been doing some heavy pruning that was harder to accomplish in the summer heat. Also changing things in the butterfly garden to add better attractors and nectar plants. In a real shady area to the rear of the property we're installing shade-loving flowering plants like white begonia, tai plants and even some nice crotons that appreciate shade and do well, along with some jatropha, plumbago and others that will thrive in partial sun to shade.
Keeping up with proper trimming is easier, cheaper and smarter than letting things grow out of control an entire season. Professionals are charging more than ever because, like all other services, their costs are ever-increasing. This is no reason to postpone getting necessary work done. Prices will probably not drop any time soon – if at all.
…………………
Those huge SNAILS we talked so much about a few years ago are back. Back in 2008 and 2009 we were invaded by them in a few parts of Miami, just east of Coral Gables where they ate everything in their path. After being eliminated here and gone for so many years, they have returned in Tampa and some other parts of Central Florida. Keep eyes open for them. They get as big as the palm of your hand. Kill them on sight.
Lychee Tree Alert:

Erinose Mites are back. Eradicated in 1993 and back in 1957 these pests are back and often killing trees. Microscopic critters that cause hairy growths known as galls on the leaves. You should inspect often, cut affected parts off and get that stuff off your property in sealed bags. Then apply miticide every 10 to 14 days all over the tree, soaking it thoroughly. This is a major problem and I have received word of tree deaths.
Lethal viral necrosis… new to lawns in South Florida.
The virus starts out with pockets of dead grass until lawns go fully brown. Only the dirt is left. Looks like an infestation of chinch bug, but its not. Looks like you poured fuel all over the lawn. Lawn services are spreading it all over. This used to be called sugarcane mosaic virus. Been around a long time but not a problem for lawns until recently. It kills Floratam and other St. Augustine lawns. Its most severe in cooler months. Look out. Sod replacement is the only known answer. I recommend use of Palmetto or BitterBlue as replacement.
Write to me at: moneyradio@aol.com Let me know you're checking out the blog. Always good to hear from all of you!!
See the fertilizer tab for some good info about fertilizers. I'm going to skip fertilizing some things this year simply because of the price of fertilizer. It's nuts. Growing up in Miami we never fertilized things every year and always had great fruit. The home I grew up in has a Hayden mango in the back yard that I know hasn't been fertilized in more than 50 years – and still feeds the neighborhood.
Remember to always take precautions from the damage to your skin from too much exposure to the sun. YES, even in the winter months. Its not the heat, its the sun.
The earth's atmosphere absorbs UVC wavelengths. UVB rays cause a much greater risk of skin cancer than UVA. But UVA rays cause aging, wrinkling, and loss of elasticity. UVA also increases the damaging effects of UVB, including skin cancer and cataracts.
Trim all trees of dead branches and twigs.
Replace any sod needed April thru September. Thats good growing time with good irrigation. Use Palmetto for shaded or partially shaded areas.
Service all power equipment. Keep blades sharp and adjustment for height at a consistent level. 3 – 4 inches is best for Floratam and most other turf grasses.
Gene Joyner, owner of Unbelievable Acres Botanical Garden, as of this writing is back at home in the garden and doing well as he works hard to get back to full speed in the garden he loves so much.
As many of you know I've been involved in real estate for many years. As a developer, builder, investor and Realtor. Well, now we've formed a new company: Consolidated Realty International Corp. Headquartered in North Palm Beach we are quickly expanding our reach to all of Southeast Florida. And from there who knows? Check out our web site: www.consolidatedrealtyinternational.com
Also, our commercial division: www.cricommercialgroup.com
————————————————————
There are so many great plants and trees in our local garden centers right now and this is a good time to get them installed. We've installed more red pentas, catwhiskers and other butterfly attractors and nectar plants into the butterfly garden we maintain out at our Jupiter property.
Milkweed is always being added. I've replaced a few citrus trees in the grove area. Some of ours became too old, produced less and smaller fruit.
Annuals such as impatiens, caladium, celosia, salvia, gazania, coleus, dianthus, dusty miller, marigolds, snapdragon, sweet alyssum and petunia succumb to heat by end of May. Frangipani can be cut back and shaped to create a nice canopy effect to make them look like umbrellas. Every cut limb will result in 2 or 3 new branches which will thicken the overall look of the plant when leafed out. You'll see the glorious results very soon in warmer weather. You can cut them at any time of year.
Killing off weeds this time of year is not hard to do. Using weed killers and weed & feed products carefully can be effective now and our grass, St. Augustine and others will still respond prior to end of September. You can put new pieces of sod in those bare spaces if you prefer. I prefer to simply mow the weeds now that hot weather is prevalent and then attack and eliminate them in the Fall. Actually, out at the farm where we have lots of turf area, I just mow them all the time and keep the St. Augustine growing nine months of the year so that now I see most areas of weeds have succumbed to the grass. Yep, they're being choked out. More natural, no chemicals and a more permanent fix to the weed problem. Remember, birds drop seeds all over. Many are seeds of weeds. A healthy lawn will keep them choked out. Over-watering can help weeds, especially the dreaded Dollarweed. That's the one with the silver dollar size head that grows best in areas kept too damp. Easy to avoid. Your lawn only needs irrigation once a week at most.
Even though we're getting some showers right now, we need to be aware of irrigation now as we enter our dry season (October) A rain gauge is a good idea so that we don't get fooled thinking a little shower is sufficient for our plants and trees. Anything less than about 3/4″ of rain in the gauge is useless.
Keep an eye on container plants all year long. They depend on us for most of their water and cannot be ignored. Check your irrigation system to make sure everything is in order. Soon everything out there may depend on it.
Herbs– What good are veggies without herbs? Bay, Laurel, Chives, Dill, Fennel, Ginger, Lemon Balm, Oregano, Mint, Parsley (again several types), Rosemary (a must),Sage, Sweet Marjoram, Tarragon and Thyme.
You can ask me anything via email: moneyradio@aol.com or pick up the phone and call my cell: 561-307-0493. I always enjoy hearing from my South Florida fellow gardeners.
___________________________________________________________________________________________________
Gene Joyner's Unbelievable Acres Botanical Gardens that exquisite non-profit rainforest right there in West Palm Beach. If you have never visited I urge you to do so soon, so that you can become a regular visitor to learn and witness the constant changes that naturally occur in a true outdoor paradise. Go to the web site: UnbelievableAcresBotanicGardens.org to get your adventure started. The second Saturday of every month is an open day. No reservation needed and any number of people. Call for further info: 561-242-1686 Gene's daughter Cindy and his sisters are maintaining things well.
————————————————————
People keep writing me about leaves falling off trees "this time of year." Our Florida Red Maple, Frangi Pani and others predictably lose most or all their leaves over winter. They return in Spring. I see people raking leaves and discarding them in the trash. If possible turn them into mulch. At the farm we grind them up with our new zero-turn mower with the special mulching mulching deck and blades. Essentially the blades and underside of the deck are designed to pick the leaves up (and grass as well) and throw this stuff up to hit the deck. Then it falls down into the path of the blades where it is chopped up so small it all virtually disappears. Beats raking, keeps everything on the property and out of the trash and provides nutrients. No leaves go into the trash anymore. Even if you don't have this kind of mower, just mow them until they are gone. That's what we used to do.
Our many Citrus trees are beautiful and showing good growth of oranges, limes, grapefruit and those Meyer Lemons. Key limes are abundant. We apply palm special fertilizer as needed and we are irrigating regularly. Check out the fertilizer tutorial.
Let me know what you're up to. www.moneyradio@aol.com
Ornamentals, including all our roses (hydrid Ts, antiques and knock-outs) are all looking fine. We do have to keep up with deep watering at least once a week and the BioAdvanced Rose & Flower Care product we are applying every 6 weeks. We've installed a few more lately. A Marilyn Monroe, a Pope John Paul and some others.
Learn which of our food products are coming from CHINA or owned by that government and please avoid them. I've talked about Smithfield, Green Giant, etc before. BE CAREFUL! You may say that Smithfield processes a lot of their pork in the U.S. True, but not all. And, Chinese managers and techs are always coming and going to and from all their facilities.
Hey, if you subscribe to Southern Living magazine, check out the monthly writings of The Grumpy Gardener. I always do and its worth it. Much of what he writes about relates to climes to the north of us a little, but his wit is contagious.
Thanks for joining me here on my blog. Write to me at moneyradio@aol.com and please put something like "Garden Show" in the subject line!!
BLACKBERRIES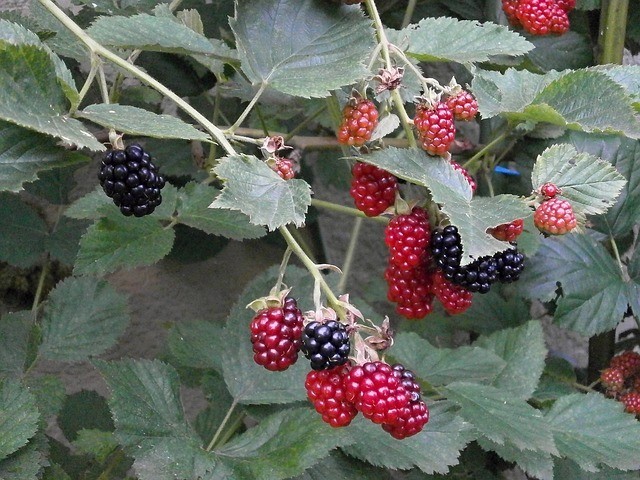 Blackberries in Florida? Yea, why not? Blueberries are also becoming a somewhat important Florida crop.
Warning:
With this massive illegal entry into our country of persons from many parts of the world we must be as prepared as possible for diseases we haven't seen here in decades and longer. Hepatitis, measles, chickenpox, plague, mumps, tuberculosis, chagas disease, Covid19 and typhoid are all present in a large percentage of these people. We must be careful with our food supply, thoroughly washing produce, being careful where we purchase food and especially where we dine outside our homes. Almost every day we hear reports about workers in kitchens being discovered to have one of these diseases. We must be alert and use caution !
If in doubt, don't eat out !
———————————————————————————————————————————————————————————————
Multiple fruit on one of our 20 Ft. tall Jackfruit trees
Be Aware:
Mowing should be no less than a height of 3 inches, preferably 4. Fertilize new sod March thru July.
Noticing some leave curl and a generally shriveled look to some citrus leaves? Probably leaf minor. Insecticidal soap about once a week, 3x, should halt it.
Need to trim back the gardenias? Always do that after the flowers fall off to give time for renewal prior to next bloom.
Remember, full size (not dwarf) Red Pentas to attract butterflies and hummingbirds.
Use natives where you can. Remember, just cause they're native doesn't mean they don't need water. A big mistake people make is they plant red tip cocoplum and don't realize they're an everglades plant and actually need water. Otherwise, die back will occur and entire plants will die, leaving you with holes in your hedges, etc.
Coconut Oil: It plays an important role in good health and other things.
For smoother skin – Exfoliate by mixing coconut oil with sea salt or sugar. This gives you exfoliation and moisturizer. Or combine 3/4 cup room temperature coconut oil with 1/2 cup of white sugar. Then add the zest of a grapefruit, 10 drops of peppermint oil and 20 drops of grapefruit oil. That'll give you an uplifting exfoliation sure to energize!

To sooth a scratchy throat – Just swallow one teaspoon of coconut oil up to three times a day to sooth a sore throat or a lingering cough. Anti-inflammatory, pain alleviating and antimicrobial properties all wrapped up in one.

Pet help – Cats with furballs? Dogs eating leaves and other yard debris? Add coconut oil gradually into the diet. Mix a teaspoon into the dry food. More later. Also works as a topical spot treatment to calm skin irritations.

Remove and prevent rust on household and garden items: Simply rub coconut oil on metal objects to prevent corrosion. Rub it on, wipe it off. For items that are already rusted, soak in coconut oil for an hour and rinse with warm water or just wipe off.
Check my Fertilizer tutorial for info about what to feed what and when. I'm giving our citrus a light application every few weeks.
Remember the importance of personal care not only for summer but all the time. Sun protection and hydration are paramount. Look further down my blog to read more on this important subject.
Its still a good idea to remember the importance of cactus and succulents in our landscapes. They don't mind drought and can do just fine without us. Check out a book by Robin Stockwell, nurseryman and long-time succulent expert.
SUCCULENTS- The Ultimate Guide to Choosing, Designing and Growing 200 Easy-Care Plants
Available now wherever books are sold.
There's a new Knock Out coming to a garden center near you. The Peachy Knock Out Rose (RADgor) is a semi-double, peachy pink shrub rose with a mounded plant habit. Bred by William Radler and introduced by Star Roses and Plants. Ask your local garden center to get it in.
Also, there's a new petal-packed, vibrant colored orange hybrid tea called Double 10 (LIM10) bred by Ping Lim and introduced by Altman Plants, a company that grows many fine roses in Boynton. This is a gorgeous plant with exciting flowers.
Check out my tutorial "THE RIGHT LAWN" under Plants & Trees, Grasses
Herbs are on our minds all the time as we use them to add flavor to foods we love. Most common herbs can be maintained now through summer by keeping an eye on the sun. Basil and rosemary like the sun. Most others don't. But, partial shade and enriched well drained soil is recommended to keep them feeding you. Fertilize with fish emulsion or manure tea or just use MiracleGro on a regular basis. Water when the soil is dry to the touch. Don't over-water.
My recent finds at the Pinecrest Gardens Farmers Market- Keez-Beez, fabulous honeys from The Keys. My favorite is their Black Mangrove Honey. What a different taste. Now available in most Publix. Find fresh veggies from several organic growers as well. Every Sunday 9am to 2pm. Free parking and admission.
What Do SCENTS Do For Us? Scent delivery can be via a few drops of essential oil in water sprayed in a room with a spritzer. Add a few drops to your bath water. Add some drops into boiling water or a steamer. However you use essential oils, here is which oils accomplish what objective:
Eucalyptus- Helps with bronchitis, relieves congestion and can even help clear and energize your mind.
Lavender- Creates a sense of calm and reduces anxiety. My wife utilizes this as the primary scent in her spa operations and has for many years.
Chamomile- This scent promotes sleep and relieves anxiety. Its also an anti-inflammatory.
Lemon- Known to repel viruses, lemon also energizes and uplifts the human mind.
Peppermint- While peppermint is just simply an enjoyable scent, it also relieves nausea, reduces migraines, is found to be energizing and serves as an analgesic for various aches and pains.
We enjoy Lemon in the kitchen area and Lavender in the bed/bath areas of our homes.
Mosquitos can be a problem any time of year. Forget citronella candles, wristbands and "all natural" products. Look for products that contain 20 percent picaridin or 30 percent oil of lemon eucalyptus. They are safer than those with deet. SAWYER Fisherman's is the absolute best. Available from Amazon, WalMart, Dick's Sporting Goods and Bass Pro Shops. Inexpensive and 2nd to none.
TAKE CARE OF YOURSELF….. Read this information carefully…….
Skin cancer is a killer! When outdoors always wear sun-protective clothing and a hat that will protect your nose, ears and neck from the sun. Use a good quality sunblock as well. Sunscreen: The very best is: Vichy Capital Soleil 50 Lightweight foaming lotion (foam.) It's available at Walgreen's and CVS. Also, as I have mentioned here before, I find that showering with CLEAN & CLEAR Essentials foaming facial cleanser by Johnson & Johnson, available at Walgreens, is helpful PRIOR to going out to work in the garden. It removes oil from your skin and allows it to breathe. You stay cooler longer. When you finish outside, shower again with this simple and inexpensive product for a cleaner than clean feeling.
FEED your BANANAS every MONTH. Good Fertilizer to use is: 6-2-12. Apply about 1-1/2 Lbs per stalk

per month

, like salt on a hamburger out to the drip line. Water at the rate of at least 1 to 1-1/2 inches per week, 4 to 6 inches of water depth per month. Good drainage is essential. Bananas do not like flooding or standing water even though they are perpetually thirsty. We will soon be adding a tutorial on bananas here on the site. Actually the button at the top of every page will be "Plants & Trees" with a drop-down menu including bananas as a separate category.
My Gardening Essay: I enjoy gardening. And I mean gardening as opposed to the hard work of maintaining a large property which gets to me sometimes. I like grooming. I mean going over one tree or plant and slowly cutting all the little dead twigs out. Shaping plants and trees. Removing any weeds or grass from the area under t6he canopy of grove trees with a scuffle hoe. I like observing everything slowly to determine the answer to my constant question: can anything out here be made better? The answer is always "yes." Then its just a matter of adding another chore to the ever-present list. I like things to be smartly maintained, I like everything to be as near perfect as we can make it. If its in my garden, anywhere on the property, I want to be proud of it. The layout, the health of every plant and tree, the appearance of every leaf. This is what gardening is to me. As you have seen everywhere you go there are hundreds of trucks plying our roadways that have signage like "Landscaping" and "Lawn Service" or maybe "Lawn Maintenance." These are hard working folks who do valuable services. But, when is the last time you saw a rig that said "Gardening"? That's probably because in our country we think of gardening as getting down on hands and knees and pulling weeds or some other activity involving hard work in the dirt. The British are real gardeners. I like the way they, the French and for that matter many other nationalities of gardeners approach the subject. They don't look down at gardening. As a matter of culture they look at gardening as a hobby of the privileged. Perhaps that's because they often employ others to do the 'heavy lifting." I confess that I do that to a great extent. My Diego, Jose and Pancho do all the mundane stuff. Those are the chores that one should be paid to do since those things don't exactly bring smiles to the faces of the ones providing the labor. But I do teach them why we do the things we do out there and give them ample opportunity to observe and admire what we all accomplish on our little piece of ground. I think they get it. I think they have a sense of satisfaction similar to mine. I also encourage them to take home bananas and other fruits from the grove and they really do treasure those things knowing they have had a hand in making them grow. I know the mowing, trimming and related work that makes you sweat is not enjoyable. Try the gardening part. Slow down and pay attention to the WHY part of your work. If you can't lay eyes on anything out there that really pleases you, start planting the trees and shrubs that will give you a sense of satisfaction every gardener deserves for his or her labor.A
The South Florida Garden Show is a production of Universal Media Enterprises, Inc.
For sponsorship opportunities contact Frank Harris at fharris@universalmediaent.com or program coordinator: Marge Fraser at mfraser@universalmediaent.com
copyright 2021 Universal Media Enterprises, Inc.